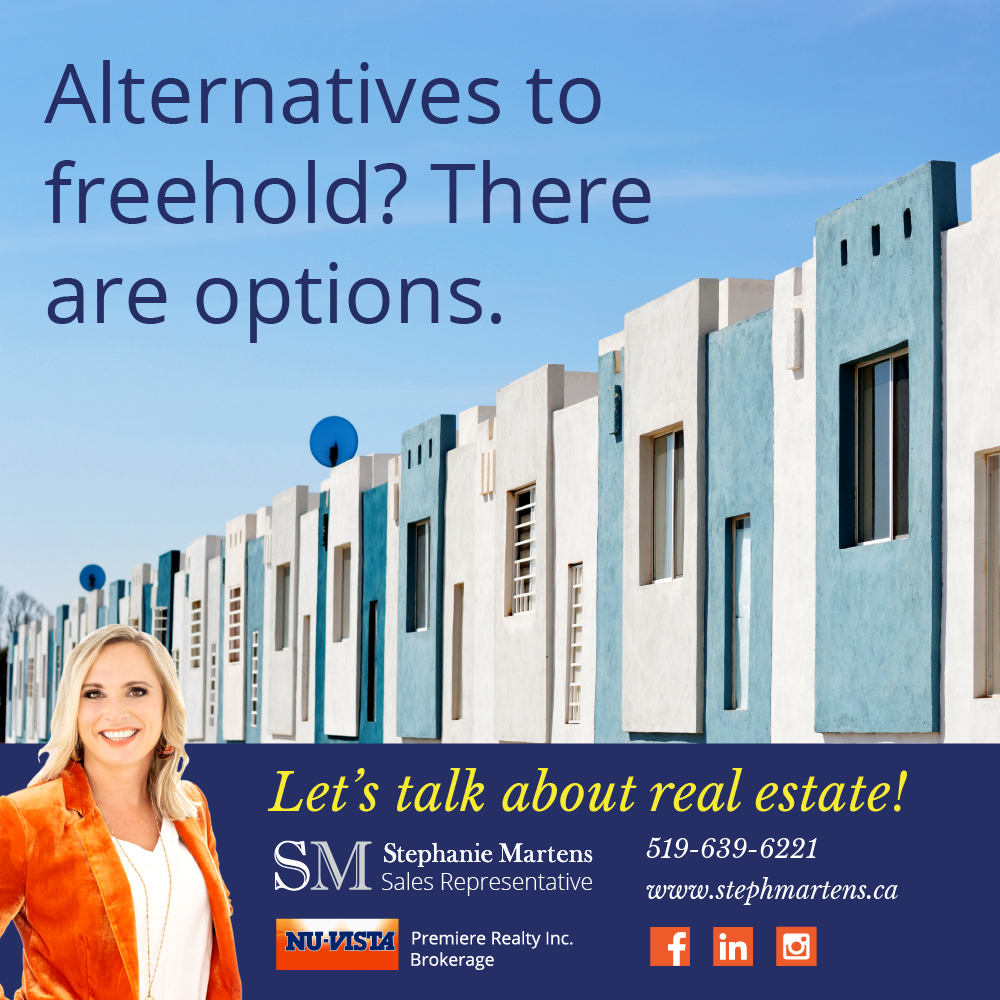 A lot of first time home buyers are looking at condo options. We've created a breakdown of condominium corporations you could come across during your search. To learn the difference between condos and freehold homes click here.
Standard Condominium Corporation
This is the most common type of condominium. These units can be in an apartment building, row-townhouses or stand-alone townhouses.
• You own the interior, condo corporation owns any land and exterior
• Owners have an interest in the property's common elements and assets (ie. hallways, elevators)
• Condo fees cover most exterior costs like snow removal, insurance, ground maintenance, parking, water and common area maintenance
Common Elements Condominium Corporation
This type of condominium has no units and only has common elements such as a road, a golf course, or a ski hill. Riverbend in London is an example of this. Owners enjoy the common elements and jointly fund the maintenance and repair through condo fees.
• The part of land you own is considered a parcel of tied land (POTL)
• It is permanently attached to your common interest in the community
Vacant Land Condominium Corporation
This option is very similar to a free hold home, but with some extra maintenance perks. Buyers often own the building and the personal property. Common areas the city would usually own (such as sidewalks and parking lots) are owned and managed by the condo corporation.
• Land maintenance such as snow removal or lawn care is covered by fees
• Fees are very low in comparison to other options
• The condo's declaration may restrict development size, construction or design standards
Leasehold condominium corporations
Mobile home parks are a great example of leasehold properties where the land is not owned by the condominium corporation. The cost of the land isn't included in the price of the condominium, but a portion of the fees do go to the landowner. The lease term must be between 40 and 99 years, so you will enjoy many of the advantages of owning a freehold condominium. You can sell, transfer, mortgage and take other actions with your unit without asking the landowner for permission.
• The sale price you can ask for your unit may be affected by the time remaining on the land lease
• Once the ground lease expires, the property owner could loose the right to occupy the unit
All these options have fees attached, so make sure you confirm what's included before signing the dotted line! If this seems overwhleming, give me a call. We can work through it together!